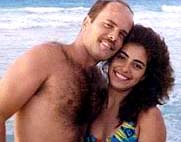 Love:
Just a few days from our encounter, wonderful memories come to my mind, all those that during our marriage we have enjoyed and that mainly you, were in charge to see and cultivate."
"However I will have to come back to the paper as usual, and leave the line of thoughts for ever, not even death can finish this love, meaningful and deep one I have for you and with this immense gratitude I feel."
That is how Raul Gomez García wrote without knowing through the years these letters would show reality of a young couple that , because of distance has stopped loving with the maturity of older people, involved by the proud, admiration and respect we feel for each other.
Once more, we are physically separated, but our love does not decrease for that, nor I need your malicious smile, nor your sly look , nor the wanted good bye kiss at the sleeping time to feel you present.
You will always be at my side , on my dreams , memories and realities
In the past lifting with indelible details this building of solid base which is our matrimony being tested from aggressive storms, in the nostalgic present and full of hopes, in this future that belongs to us, with the certainty of living again the long moments full of happiness we deserve.
Even after these years of silence, forced to be separated, I have not stopped loving and longing for you.
With your endless love, respect, comprehension, your delicate patient, dedication, tenderness and eternal smile you made from me a spoiled girl and a woman immensely happy.
That is why, as Martí said, loved will be the one who loves, kisses may be got that one who seeds kisses.
For men like you, sacrifices do not matter, nor endless dedications to which I am wiling.
We have a love history, a very nice one, impossible to crash in these lines, but years might come and our love will grow.
I have been and I am very happy to share my life with an extraordinary man, forming part of history of this country, who is gifted with envying qualities and that knows how to enrich and to make grow this wonderful feeling as love is.
I wish you a lot of happiness, accompanied with these kisses that time and distance have not stopped to enjoy.
Thank you so much for such a fortune and loving you, I miss you a lot.
Love is like wind to fire, it lights it and turns the weak ones off.
Happy Wedding Anniversary
Your Bonsai